After 10 years of development, Revolution Retail is excited to announce we are now stocking a complete range of exclusive steel racking.
This racking system has been developed to suit Newsagencies, Giftware stores, Convenience stores, Tobacconists and Pharmacies/Chemists.
We created this racking system after consulting with various stakeholders including retailers, landlords and component suppliers. It has been created with interchangeable components and accessories that can be purchased and added at any time to suit your customer trends. It has never been easier to relocate, re-arrange or prepare for seasonal merchandising.
Using our racking negates the need to arrange for a tradesman because the lightweight components make it easy for your staff members to move around magazine tierage, slatwall, shelving, punch panels, and even card tierage!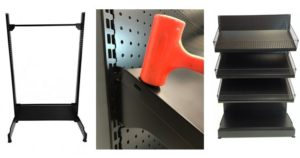 These units offer the durability and longevity of powder-coated steel. High quality manufacturing means your product is hard wearing and will stand the test of time looking great for years. Additionally, you can take them with you should you relocate your shop.
Please feel free to contact Revolution Retail if you wish to discuss our racking.